Hei Mauri Tū
Hei Mauri Tū symbolises everything we are: its boundless freedom transcends beyond the organisation and through to the workplace and its people, allowing them to ignite their potential and soar to new heights.
Our logo, or tohu, was conceived and brought to life by carver and designer Tamatea Kopua, with support from Cato Partners Wellington.
In our branding, Hei Mauri Tū is represented by the figure of a human ascending above a sphere, to a world of heavenly kōrero - information. This represents Tāne-nui-ā-rangi or Tāwhaki, as he ascended to the heavens to acquire the three baskets of knowledge: ngā kete o te wānanga me ngā whatu e rua.
The hole within the chest of the design represents the kaperua, the seed. From the seed, we have growth, shown by koru extending on both sides of the human form. From these, future generations are nurtured.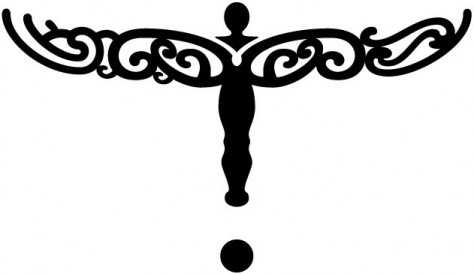 On the right hand side, through the Maui design, the external koru represents Tā-whiri-mātea. Takarangi represents the clouds, of unrest and opportunity in the atmosphere. Maui is credited with flight, through perseverance and acquisition of knowledge.
On the left hand side, the external koru represents Tā-ngā-roa. This Puhoro design is representative of how Tā-ngā-roa receives the wake of the waka, upon which achievement is progressed.
Mauri Oho, Mauri Tū, Mauri Ora
Step up. Strengthen. Flourish.
Hei Mauri Tū takes the workplace and its people and lets them reach for the stars, instead of safely staying earthbound. It supports others when they need a hand to get ahead. We change things and make them better, and all it takes is a bit of hard work and ignoring the no-can-do voices.
Learn more about the story of Hei Mauri Tū